José Rivera's
"Boleros For The Disenchanted"
From The Huntington
The Huntington Theatre Company will open its season at the Calderwood Pavilion at the Boston Center for The Arts, 527 Tremont Street, with Academy Award-nominated José Rivera's "Boleros for the Disenchanted." Directed by OBIE Award-winning Chay Yew, the touching portrait of a marriage from courtship to enduring love runs October 10 – November 15.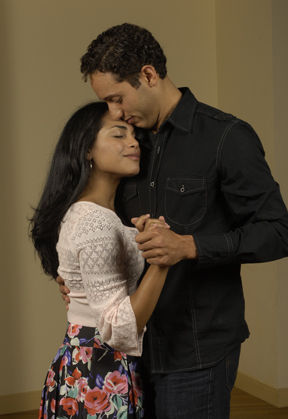 Act I of "Boleros for the Disenchanted" tells the story of the youthful, whirlwind romance of Flora and Eusebio in their native Puerto Rico. Act II, taking place in the U.S. 39 years later, reveals how the couple's relationship has been tested and strengthened over four decades. From their homeland to the U.S., they continue to share a passionate love and fierce commitment to each other.
The company includes Socorro Santiago and Jaime Tirelli (at left), Monica Raymund, Ellioit Villar, Maria-Christina Oliveras, and Juan Javier Cardenas.

"Boleros for the Disenchanted" received glowing reviews when it premiered at Yale Repertory Theatre this past April, with Variety calling it, "An epic study of wedded life that is simply – and not so simply – marvelous.
"This play is simply so beautiful," comments Artistic Director Peter DuBois. "It is the most moving and intimate window into marriage that I've encountered in the theatre. I've never seen José tackle a love story like this. I think 'Boleros' is among the most profound new plays written in the last ten years."
DuBois is dedicated to supporting new work at all stages of development. "I'm committed to giving plays second or third productions because I think that 'premiere-itis,' when theatres only want to produce the world premiere of something, doesn't always serve the playwright. José has been at work on his script since the premiere last spring, and our production will give him the chance to build on this already gorgeous piece of writing."
Rivera received OBIE Awards for his plays "Marisol" and "References to Salvador Dalí Make Me Hot." His other plays include "Cloud Tectonics," "The House of Ramon Iglesia," "The Promise," and "School of the Americas." He received Spain's Goya Award, as well as Academy Award and BAFTA Award nominations, for his adapted screenplay of "The Motorcycle Diaries."

Yew, recipient of the Dramalogue and OBIE Awards for direction, has worked at The Public Theatre, New York Theater Workshop, the Kennedy Center, Mark Taper Forum, Long Wharf Theatre, Actors' Theatre of Louisville, and The Goodman Theatre, among others.

Related Events include:

Tuesday, October 14, 7:30 p.m.
Playwrights Forum at 6:30 p.m.

Tuesday, October 21, 7:30 p.m.
Jewish Community Night (pre-show reception)
Post-show Tuesday Talk on topics of the play
Wednesday, October 22, 7:30 p.m.
Latino Community Night (pre-show reception)
Thursday, October 23, 7:30 p.m.
Post-show Actors Forum with cast members
Thursday, October 30, 7:30 p.m.
Out & About Club (post-show)
Friday, October 31, 8 p.m.
Open-Captioned Performance
Sunday, November 2, 2 p.m.
Post-show Humanities Forum with guest speaker

Wednesday, November 12, 2 p.m.
Post-show Actors Forum with cast members
For information and tickets, stop by the box office, call 617-266-0800 or visit www.huntingtontheatre.org.
-- OnStage Boston
Production Photo: Eric Antoniou