In this 250th anniversary year of the birth of Wolfgang Amadeus Mozart, Boston Midsummer Opera will debut locally with a production of "The Marriages of Mozart." Playing at the Tsai Performance Center at Boston University for three performances only, August 2, 4 and 6, this production will be conducted by Philip Lauriat, founder of Granite State Opera.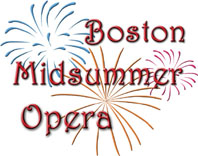 Conceived by Drew Minter, renowned counter tenor and BMO's artistic director, "The Marriages of Mozart" celebrates the inspired collaboration between Mozart and Lorenzo Da Ponte, the librettist for his three most famous operas, "Cosi Fan Tutte, " "Don Giovanni" and "Le Nozze di Figaro."
Sung in English, selected scenes from the three operas will be presented, illustrating the creator's brilliant observations on both the comic and poignant aspects of love and courtship. This program was originally created in the summer of 2004 for the Monadnock Festival at the Colonial Theatre in Keene, New Hampshire.
The cast includes two married couples, soprano Kelly Kaduce and baritone Lee Gregory, and soprano Jami Rogers and tenor Kevin Anderson. The other singers include mezzo-soprano Kellie van Horne, baritone David Kravitz, bass-baritone Charles Mays, Jr. and soprano Jodi Frisbie.
This new opera project seeks to introduce Boston audiences to young singers of exceptional talent through a fresh, inventive approach to opera. Sung in English and simply yet imaginatively staged, Boston Midsummer Opera productions aim to make opera both accessible and affordable while adhering to the highest musical and dramatic standards.
Since winning the 1999 Metropolitan Opera National Council Auditions, soprano Kelly Kaduce has garnered praise for her stage portrayals. She recently appeared in New York City Opera's "La Boheme" and Boston Lyric Opera's "Thais."
Winner of the 2006 Joy In Singing competition, baritone Lee Gregory made his New York City opera debut in "Carmen" and counts Trinity Repertory's "The Pirates of Penzance" among his credits.
Soprano Kami Rogers, the National Winner of the 1996 Metropolitan Opera National Council Auditions, has established herself as one of the most sought after singers in both the operatic and concert worlds. Her local credits include Boston Lyric Opera's "Werther."
Acclaimed tenor Kevin Anderson came to worldwide attention with the San Francisco Opera's historic production and telecast of "L'Africaine" with Placido Domingo and Shirley Verrett.
Mezzo-soprano Kellie van Horne earned her Master of Music in Voice/Opera from the Yale University School of Music and has trained at Saltzburg's esteemed Mozarteum. Her credits include "Carmen" with Commonwealth Opera.
Baritone David Kravitz has received acclaim on both the opera and concert stages in Boston and New York, with local credits including Boston Lyric Opera's "The Little Prince" and "Resurrection." In addition to his singing career, he has clerked for Supreme Court Justices Stephen Breyer and Sandra Day O'Connor and continues to work for Boston's leading law firms on a freelance basis.
Bass-baritone Charles Mays Jr., received rave reviews when he toured with the Musicians from Marlboro this past May, singing at Freer Gallery in Washington D.C. and the Metropolitan Museum of Art in New York City.
Soprano Jodi Frisbie has performed across the country, with her local credits including "Akhnaten" with Boston Lyric Opera, Mozart's Mass in C Minor with Boston's Back Bay Chorale and in "Regina" with Boston Opera Project.
For tickets, call 617-227-0442 or visit www.bostonmidsummeropera.org.
-- OnStage Boston