A Review

Into The Woods . . . And Loving It
By R. J. Donovan
Think back to high school when you were forced to trudge through Shakespeare -- forced being the operative word. You didn't understand it. The teacher probably didn't either. And you palmed the illicit Cliff Notes version just to get a handle on what was happening.
Now skip to the other end of the spectrum. Shakespeare that's bright and intelligent. Shakespeare with humor and vitality. Shakespeare that draws you in.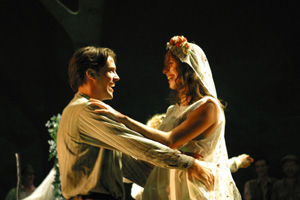 The latter is what you can experience with the Theatre Royal Bath production of "As You Like It," directed by Sir Peter Hall and playing at The Wilbur Theatre through December 21.
We start off with two story lines concerning brother against brother.
Orlando and his older brother Olivier are at odds, physically and emotionally. Olivier, as the eldest, has received their late father's estate and they've come to blows over it. Meanwhile, Duke Frederick has banished his own brother to the Forest of Arden. Frederick has a daughter, Celia, who's best friends with Rosalind, daughter of the banished Duke.
Orlando eventually meets Rosalind at a wrestling match and falls for her fair looks. Unfortunately, she, too, is soon banished to the forest, where she masquerades as a boy to avoid detection. Celia, unable to say farewell to her friend, goes along, also in disguise.
As fate would have it, Orlando escapes to the forest to avoid his brother, and comes upon the banished Duke, who invites him and his man servant to join their merry band of hunters and singers. All the while, Orlando pines for for the lovely Rosalind.
Rosalind, now in the forest and dressed as a tomboy, crosses paths with Orlando and remembers him from the wrestling match. She also sees he's heart struck over someone (in fact, her), and playfully offers to help him get over his lost love -- which, of course, never happens.
Mis-matches continue, love swirls and the seasons change. But by evening's end, deceptions have been corrected, marriages abound and wrongs are righted.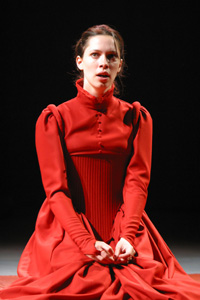 The "As You Like It" cast is a joyous group, obviously relishing their roles. Rebecca Hall (left and above), daughter of Sir Peter, has been cast as Rosalind. Statuesque, she plays the role with a down to earth touch, which contrasts nicely with the feistiness of Rebecca Callard as her friend, Celia.
Joseph Millson (above with Hall) is the dashing Orlando. He gives a passionate performance throughout, but I was particularly taken with a moving passage he delivers concerning the frailty of his man servant when Orlando first comes upon the banished Duke and his men in the forest.
Michael Siberry is wonderfully expressive as Touchstone the jester, who eventually falls in love with Audrey, a goat herder (or is that herderess?), humorously played with a light touch by Amanda Symonds. The two are particularly comical when they are being sung to in the forest when all they want to do is kiss.
David Yelland, who brings unruffled paternal security to the role of the banished Duke Senior, also plays the vexing Duke Frederick. Nigel Pegram brings a nice touch to the role of Adam, Orlando's elderly man servant, and Glenn Carter is appropriately devious as Olivier.
Philip Voss gives a spirited performance as Jaques, who roams the forest imparting his melancholy. It's Voss who gets to deliver the "All the world's a stage and all the men and women merely players" speech.
Shakepeare's tale is artfully told against an impeccably simple set by John Gunter. Simple floor coverings, a lone tree, rear projections, cool colors in winter, green when spring brings the forest to life -- all are a perfect compliment to the engaging mood Sir Peter Hall creates in his direction.
"As You Like It" is presented by Broadway in Boston in association with The Huntington Theatre Company.
"As You Like It" is at The Wilbur Theatre, 246 Tremont Street in Boston, through December 21. For information, call 617-931-2787.
Production photos:Nobby Clark
-- OnStage Boston
11/14/03